Physical beam model for carbon ion radiotherapy
Physical beam model for carbon ion radiotherapy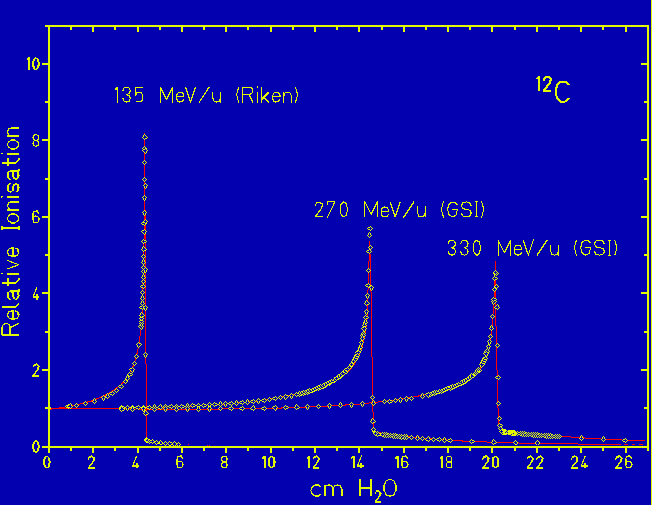 In order to optimize dose delivery to the tumour precise knowledge of energy deposition in tissue-like material (water) is essential. This includes not only the energy loss of the primary particle but also the contributions of the projectile fragments. The picture shows measured depth dose distributions (Bragg curves) in water (points) together with model calculations (red curves). The good agreement allows to use only the model calculations for treatment planning, which is of great help since determining the depth dose distributions experimentally for all possible 250 primary energies would need an enormous amount of beamtime.
Our model also yields as a function of penetration depth the energy and charge distribution of the generated fragments - an essential input to calculate relative biological effectiveness (RBE) and other charge-sensitive efficiencies (Films, TLDs, BANG gels etc).
The model is a homegrown GSI development and now integrated into our treatment planning package TRiP98
The aim of ongoing development is to extend the validity to all ions from protons to ozygen.

Last update: January 29th 2003, M.Kraemer@gsi.de, Design: Marcus Winter, M.Winter@gsi.de